Home
/
Health News
/
California, Iowa Toughen Restrictions As COVID Cases Climb
California, Iowa Toughen Restrictions as COVID Cases Climb
By Robin Foster HealthDay Reporter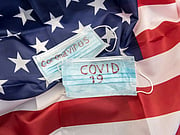 TUESDAY, Nov. 17, 2020 (HealthDay News) -- As the U.S. coronavirus case count climbed past 11 million on Monday, California's governor announced he is bringing back tighter social distancing restrictions while Iowa's governor reversed course and announced a statewide mask mandate.
The country is averaging 150,000 new cases a day, and will probably reach 250,000 total deaths sometime this week, The New York Times reported.
Daily case reports are rising in 48 states, prompting governors and mayors across the United States to take new steps to try to halt the spread of COVID-19. A sweeping stay-at-home advisory went into effect in Chicago on Monday, while Philadelphia will ban indoor gatherings and close indoor dining at restaurants starting on Friday, the Times reported.
After getting the virus under control, California Gov. Gavin Newsom said Monday the state's daily case numbers had doubled in the last 10 days, the fastest increase the state had seen since the beginning of the pandemic, the Times reported. The state passed the grim milestone of 1 million cases last week. The increases cross age, racial and ethnic groups and appear throughout the state, Newsom added.
As part of Newsom's latest measures, most of California's larger counties were moved back into the most restrictive reopening tier, meaning that indoor dining and some other businesses would have to shut down again. Newsom added he is also weighing curfew options, the Times reported.
Meanwhile, Iowa Gov. Kim Reynolds announced a statewide mask mandate on Monday, months after dismissing such orders as "feel good" measures with little impact, the Washington Post reported. Coronavirus infections in the state have doubled over the past month, and the number of hospitalized patients reached a new high on Monday.
"There aren't enough sheriffs in Iowa's 99 counties to shut down every noncompliant bar," Reynolds said Monday. "If Iowans don't buy into this, we lose," she said, warning that schools and businesses could be closed.
Until now, Reynolds had ignored infectious disease experts who say masks are one of the most effective tools to control the spread of the virus, the Post reported.
As the holidays approach, state leaders have told residents not to gather with people from outside their households, and to resist visiting relatives over the holidays.
Much of the recent rise in cases, state officials say, seems to have been fueled by at-home parties or family gatherings, the Post reported.
Moderna's COVID Vaccine Shows 94.5% effectiveness
In some good news, Moderna Inc. announced on Monday that early results show that its coronavirus vaccine is 94.5 percent effective.
The researchers behind the vaccine said the results were better than they had dared to imagine, though it will probably not be available until spring, the Times reported.
Moderna is the second company to report preliminary data on a successful vaccine: Pfizer, in collaboration with BioNTech, reported last week that its vaccine was more than 90 percent effective.
Pfizer and Moderna were the first to announce early data on large studies, but 10 other companies are also conducting big Phase 3 trials in a global race to produce a vaccine, including efforts in Australia, Britain, China, India and Russia, the Times reported.
The U.S. Food and Drug Administration has said that coronavirus vaccines should be at least 50 percent effective to be approved.
Moderna, based in Cambridge, Mass., developed its vaccine in collaboration with researchers from the Vaccine Research Center, part of the National Institute of Allergy and Infectious Diseases.
Dr. Anthony Fauci, director of the institute, told the Times that, "I had been saying I would be satisfied with a 75 percent effective vaccine. Aspirationally, you would like to see 90, 95 percent, but I wasn't expecting it. I thought we'd be good, but 94.5 percent is very impressive."
Pfizer and Moderna each announced the early findings in news releases, not in peer-reviewed scientific journals, and the companies have not yet disclosed the detailed data that would allow outside experts to evaluate their claims, the Times reported.
Both companies used a synthetic version of coronavirus genetic material called messenger RNA to program a person's cells to churn out copies of a fragment of the virus, the Times said. That fragment sets off alarms in the immune system and stimulates it to attack if the real virus shows up.
"The fact that two different vaccines made by two different companies with two different kinds of structures, in a new messenger RNA concept, both worked so effectively confirms the concept once and for all that this is a viable strategy, not only for COVID but for future infectious disease threats," Dr. Barry Bloom, a professor of public health at Harvard University, told the Times.
One concern is that both vaccines must be stored and transported at extremely cold temperatures -- minus 4 degrees Fahrenheit for Moderna, and minus 94 Fahrenheit for Pfizer – which will make distribution a challenge, the Times reported. Most of the other vaccines in development can just use refrigeration.
However, Moderna said Monday that researchers had found that its vaccine had a longer shelf life in the refrigerator than previously thought: 30 days, not seven. Not only that, the vaccine will last 12 hours at room temperature, the company said.
Both companies have said they expect to apply within weeks for emergency authorization to begin vaccinating the public.
COVID-19 continues to spread around the globe
By Tuesday, the U.S. coronavirus case count neared 11.3 million while the death toll neared 247,000, according to a Times tally. According to the same tally, the top five states in coronavirus cases as of Tuesday were: Texas with over 1.1 million; California with just over 1 million; Florida with nearly 890,000; Illinois with over 586,500; and New York with over 568,000.
Curbing the spread of the coronavirus in the rest of the world remains challenging.
Many European countries are tightening restrictions, the Associated Press reported. France began a nationwide lockdown last week, and Germany and Austria have started partial lockdowns as government officials across the continent scramble to slow a sharp rise in infections that threatens to overwhelm their health care systems.
England has followed suit, while Italy, Greece and Kosovo also announced new measures, the AP reported.
Things are no better in India, where the coronavirus case count has passed 8.8 million, a Johns Hopkins tally showed. More than 130,500 coronavirus patients have died in India, according to the Hopkins tally, but when measured as a proportion of the population, the country has had far fewer deaths than many others. Doctors say this reflects India's younger and leaner population. Still, the country's public health system is severely strained, and some sick patients cannot find hospital beds, the Times said. Only the United States has more coronavirus cases.
Meanwhile, Brazil passed 5.8 million cases and had over 166,000 deaths as of Tuesday, the Hopkins tally showed.
Worldwide, the number of reported infections passed 55.1 million on Tuesday, with over 1.3 million deaths, according to the Hopkins tally.
More information
The U.S. Centers for Disease Control and Prevention has more on the new coronavirus.
SOURCES: The New York Times; Washington Post; Associated Press
« Back to News

The news stories provided in Health News and our Health-E News Newsletter are a service of the nationally syndicated HealthDay® news and information company. Stories refer to national trends and breaking health news, and are not necessarily indicative of or always supported by our facility and providers. This information is provided for informational and educational purposes only, and is not intended to be a substitute for medical advice, diagnosis, or treatment.