Home
/
Health News
/
AHA News: Her Husband And Her 'Indomitable Spirit' Keep Her Going Since A Stroke At 43
AHA News: Her Husband and Her 'Indomitable Spirit' Keep Her Going Since a Stroke at 43
By American Heart Association News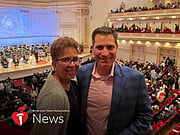 MONDAY, May 15, 2023 (American Heart Association News) -- Cécile Boynton texted Mark, her husband of five months, that she was on her way home from work. They would then head over to their personal trainer for a workout session.
The two had met a few years earlier at a taekwondo studio near their home in Winston-Salem, North Carolina. Both black belt holders, Mark had been practicing martial arts since he was a teenager. Cécile had been practicing for a decade.
As she drove home, Cécile developed a headache. She felt so queasy and lightheaded that she pulled off the highway. After a few minutes she felt better, so continued her trip.
The next thing she remembered was sitting on the side of the road trying to answer questions from paramedics. Her car was upside down. She'd apparently freed herself from the car by using the seat belt cutter Mark had given her as a stocking stuffer.
At home, Mark began to worry. Cécile's phone went unanswered. He searched online and saw that a major accident had stopped traffic where Cécile traveled.
Just then, his doorbell rang. Two police officers stood at the door.
"Your wife was in a serious accident and is at the hospital," one officer said. "She may have had a head injury."
Mark found Cécile alone in a room in the ER. She couldn't speak but he saw the terror in her eyes. The right side of her face drooped and she couldn't move the right side of her body. She couldn't see out of her left eye.
To Mark, it seemed obvious that his wife, only 43 and fit, had had a stroke. He called a neurologist he knew from the taekwondo studio.
"Hang up the phone and stay with her," he told Mark.
Within minutes, doctors and nurses rushed into the room. Imaging tests showed that Cécile had a clot in her carotid artery. She needed a thrombectomy, a minimally invasive procedure to remove the clot.
The procedure went as planned. Until the end. As the clot was being pulled out, some of it broke apart, causing Cécile to have more strokes. Doctors were able to restore blood flow but were unsure what her recovery would look like.
Life as we know it is over, Mark thought. But he told himself they had a choice – give in or get better.
He saw Cécile that night. She looked frightened but recognized him. He took her right hand and felt the slightest movement in two fingers. That gave him hope.
"I know you can't talk, and I know you're confused, but it's going to be OK," he told her.
At home that night, Mark, a lawyer, researched Cécile's condition just as he would a legal case. He learned that the sooner her brain and body were challenged to improve, the better.
The next day, with the doctors' approval, Mark started to manipulate all Cécile's muscles. He felt some movement and strength return.
While she could understand speech, she had trouble finding the right words for things. That's called expressive aphasia. Mark read poems, prayers and songs to coax words out of her.
One day during the first week, nurses told Mark that although Cécile lit up when he was present, she cried every night when he left.
During a halting conversation, Cécile told him she was afraid every night that he wouldn't return.
"I will never leave you," he said. "But you've got to do the work. Only you have the power to push your body and mind."
After two weeks in the ICU, Cécile was moved to an inpatient rehab facility. For a month, in April 2011, she received daily speech, occupational and physical therapy. Meanwhile, doctors determined that Cécile's stroke had been caused by antiphospholipid syndrome, an autoimmune disease that causes an increased risk of blood clots.
Once Cécile was home, she and Mark continued therapies to relearn such things as basic arithmetic, colors and everyday words. To work on her hand mobility, Mark would use Cécile's black belt to tie her left arm to her body, forcing her to use her right hand.
Although they would at times get exasperated with each other, they grew stronger together, working as a team.
By that July, Cécile was doing well enough to fly to New York to visit Mark's family. They attended the New York Yankees game where Derek Jeter collected his 3,000th career hit. Cécile was so caught up in the feat and the vibe that she almost felt normal again.
Within half a year, Cécile had regained much of her movement and speech, though she remained blind in her left eye and was easily fatigued.
In October 2011, she was able to return to her marketing job part-time, getting rides and using public transportation. In 2013, she regained her driver's license.
The following year, Cécile's world was jolted again. Her supportive company, which had paved the way for a slow return to work, was sold. Then her job was eliminated. She felt like she was losing a loving family, plus she wasn't sure she'd be able to find other work.
She became depressed. She didn't want to leave the house. Mark could see her physical and mental progress reversing.
"You have to get out of the house," he told her after two months. "Everything we fought for is going away."
He evoked one of the five tenets in taekwondo – indomitable spirit.
"You can't give up," he told her over and over.
She took the message to heart and started meeting with friends. She eventually found a new job and has been employed ever since.
Early this year, the couple returned to the taekwondo studio. Mark had let his training lapse because of time constraints, while Cécile had been unable to return because of her vision and balance.
"It's a huge deal for me to be back," she said. "My motions are slowly coming back. Some things I can't do, but I'm excited for the challenge."
American Heart Association News covers heart and brain health. Not all views expressed in this story reflect the official position of the American Heart Association. Copyright is owned or held by the American Heart Association, Inc., and all rights are reserved.
By Diane Daniel, American Heart Association News
« Back to News

The news stories provided in Health News and our Health-E News Newsletter are a service of the nationally syndicated HealthDay® news and information company. Stories refer to national trends and breaking health news, and are not necessarily indicative of or always supported by our facility and providers. This information is provided for informational and educational purposes only, and is not intended to be a substitute for medical advice, diagnosis, or treatment.