Home
/
Health News
/
AHA News: Flu Related Myocarditis Is Rare But Can Be Fatal, As Ohio Family Learned
AHA News: Flu-Related Myocarditis Is Rare But Can Be Fatal, as Ohio Family Learned
By American Heart Association News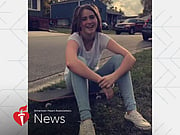 MONDAY, July 10, 2023 (American Heart Association News) -- Last December, during the week before winter break, Abbie Hauler caught the flu. She had a deep cough and began complaining of chest pain. Her mother, Angie Hauler, told her to stay home and rest. But the eighth grader had tests to take before vacation started. And she didn't want to miss a weekend trip to celebrate the holidays with her father's family.
"Teens can be stubborn," Angie said. "But on the way home that night, she called me and said, 'Mom, I really don't feel good.'"
The next morning, Abbie complained that it hurt to breathe. Her mother took her to an urgent care clinic in suburban Columbus, Ohio, where she tested negative for COVID-19, but positive for influenza A. The doctor said her heart and lungs sounded fine and told her to rest and drink lots of fluids. The pain in her chest, he said, was from coughing.
Abbie didn't sleep all night. She felt hot, then cold. She complained repeatedly that her chest hurt. Abbie slept that night in bed with Angie, allowing Angie to better keep an eye on her.
The next morning, Angie got up to take a shower. When she came back to the room to get dressed, Abbie was lying quietly on her side. Her mother called her name but got no response.
"I rolled her over, and her eyes were half open," Angie said. Abbie wasn't breathing. Her mother called 911. An operator told her to put Abbie on the floor and begin chest compressions.
At the hospital, doctors said Abbie had a blood clot in her heart. The medical team worked on her for 90 minutes but couldn't revive her. Later, the medical examiner told the family she died from viral myocarditis, an inflammation of the heart muscle, brought on by the flu.
Influenza myocarditis is rare and difficult to diagnose. It weakens the heart, preventing the body from getting enough blood. It also can cause blood clots to form in the heart, triggering a heart attack. Heart complications are the second most common cause of deaths related to the flu, which is estimated to kill tens of thousands of people in the U.S. each year. Viruses are the most common cause of myocarditis, accounting for up to 70% of all cases.
Angie knew none of this when Abbie was ill. She certainly never thought the flu could be fatal to a 14-year-old.
"People get the flu all the time," she said. "It's mind-boggling. If I had known, I would have rushed her to the hospital."
Losing her child this way "has changed me as a person," Angie said, "and I don't want anybody else to have to go through this."
Angie and her mother, Cathi Bell, want others to know about viral myocarditis so they can spot the symptoms and ask their health care professionals to test for it if a child complains of chest pain. Myocarditis in young people also has been associated with COVID-19 and some COVID-19 vaccinations, though studies have found cases are rare and tend to be mild.
The symptoms of myocarditis include fatigue, shortness of breath, fever, chest pain, an irregular heartbeat, lightheadedness, and flu-like symptoms such as headaches, body aches, joint pain or sore throat. It can be diagnosed using blood tests, MRIs, chest X-rays and heart tests such as echocardiograms.
Bell said since Abbie has died, she has spoken with others who lost young people to viral myocarditis. She doesn't understand how a child can be so healthy one day and gone the next.
She misses frequent visits from her granddaughter. Abbie would sit on the floor playing Uno with her older sister, Sarah, and her grandfather. She'd sometimes stay for dinner and spend the night, often teasing her grandfather about his lack of tech-savvy skills. She'd laugh and try to teach him to use social media.
"God, she loved to laugh," Bell said.
Abbie was the kind of teenager who cracked jokes with her classmates and loved to pull pranks. She was also kind. She befriended new students and stood up to bullies at school. She was fiercely protective of her three younger siblings, especially her sister, Charli, who has autism.
Now it's Abbie's friends and family who are protective of her.
As a way of keeping her present for the milestones she would miss, Angie had Abbie cremated and put some of the ashes into a teddy bear. She dressed the bear like Abbie, putting her earrings into its ears and piercing its nose with her nose ring. At major class events, like a school award ceremony, a friend's baptism, softball games and the end-of-year clap-out for graduating students, Abbie's best friend, Baleigh, made sure to bring "Abbie Bear."
"This way she could still be a part of those experiences," Angie said. "It's a way of keeping her with us."
American Heart Association News covers heart and brain health. Not all views expressed in this story reflect the official position of the American Heart Association. Copyright is owned or held by the American Heart Association, Inc., and all rights are reserved.
By Laura Williamson, American Heart Association News
« Back to News

The news stories provided in Health News and our Health-E News Newsletter are a service of the nationally syndicated HealthDay® news and information company. Stories refer to national trends and breaking health news, and are not necessarily indicative of or always supported by our facility and providers. This information is provided for informational and educational purposes only, and is not intended to be a substitute for medical advice, diagnosis, or treatment.