Home
/
Health News
/
AHA: Healthy Or Not? Keeping Score On Super Bowl Ads
AHA: Healthy or Not? Keeping Score on Super Bowl Ads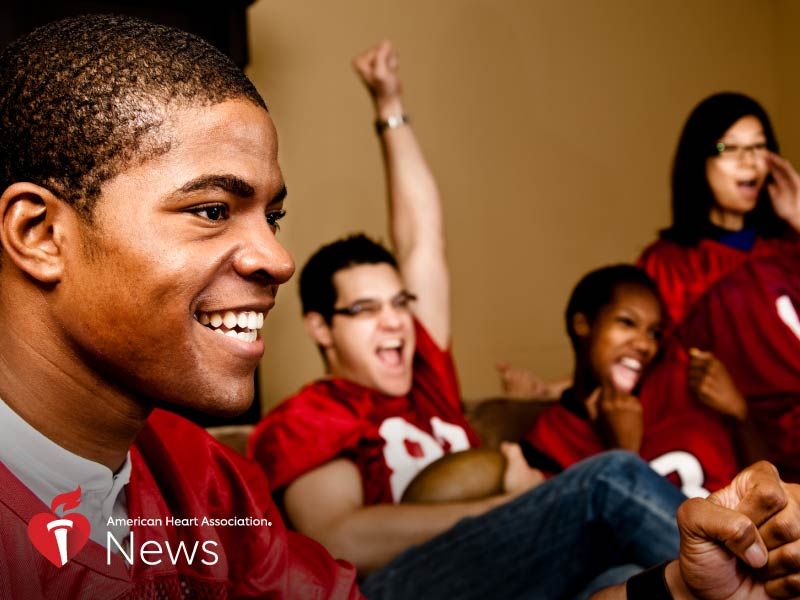 THURSDAY, Jan. 31, 2019 (American Heart Association) -- With more than 100 million people watching the Super Bowl each year, advertisers launch a high-stakes blitz to win the battle of the brands. From a wellness perspective, viewers face their own Super Bowl challenge: Which advertised products are healthy, and which aren't?
Keep these health facts in mind as you watch the onslaught of ads on Super Bowl Sunday:
CHIPS
Chips are crunchy, salty and hard to put down, but the calories can add up quicker than points in a high-scoring football game. One ounce of potato chips -- between 11 and 18 chips -- has 152 calories even before you scoop up any dip or salsa. Each serving also contains 148 milligrams of sodium.
The American Heart Association recommends people limit their sodium to no more than 2,300 mg a day, noting that limiting sodium to less than 1,500 mg a day is ideal for most adults, especially those with high blood pressure.
BEER
Even if you watch the game at home and don't drive, it's still wise to cut back on cold ones: Experts recommend drinking only in moderation for beer, that means one to two 12-ounce servings a day for men, and one serving a day for women.
Drinking more beer, or any type of alcohol, increases the risk of heart disease, stroke, high blood pressure, obesity and breast cancer.
SODA
No matter if you call it "pop," "cola" or just plain "soda," sugary carbonated soft drinks are best consumed in small doses, if at all: One study showed sugary drinks increase the risk of heart disease, Type 2 diabetes and other health issues.
Diet sodas aren't great for you, either. A 2018 AHA science advisory counsels against regular and long-term consumption of diet beverages, particularly in children. The healthy alternative to soda is water either plain, carbonated or flavored without sweetener.
TV AND MOVIES
February is a popular month for zoning out in front of the flat screen, but beware all that couch time. Too much sedentary time can increase the risk of cardiovascular disease, diabetes and death, according to a 2016 science advisory from the AHA.
But it's getting easier to stay fit while still watching your favorite films, shows and sporting events. New federal guidelines say even several minutes of moderate activity can be good for your health. So when your team scores on Super Bowl Sunday, stand up and do your own end-zone celebration dance.
AVOCADOS
The fleshy green fruit of the avocado plant might be one of the healthiest food items advertised during this year's big game. Full of nutrients and monounsaturated "good fat," avocados can help improve bad cholesterol levels in overweight and obese people, according to one study.
FAST FOOD
There's no denying fast food's popularity: More than one-third of Americans eat it on a daily basis. But fast food has been linked with high calorie intake, poor diet quality and weight gain, and one study showed the percentage of total daily calories from fast food increased as a person's weight rose. Experts urge people who to eat at fast-food restaurants to read the nutritional information on menus before ordering.
TOOTHPASTE
Toothpaste itself isn't healthy, but brushing your teeth is. A recent study showed that poor brushers -- those who brushed less than twice a day, for less than two minutes -- had three times the risk of having or dying from a heart attack, stroke or heart failure compared to good brushers.
CANDY
Candy is a major source of added sugar, which adds calories of no nutritional value to the diet. Studies show that eating too much sugar can increase the risk of developing obesity, Type 2 diabetes and heart disease, and can increase the risk of dying from cardiovascular diseases. That's why experts recommend limiting added sugars to no more than 150 calories a day for men and 100 calories a day for women.
« Back to News

The news stories provided in Health News and our Health-E News Newsletter are a service of the nationally syndicated HealthDay® news and information company. Stories refer to national trends and breaking health news, and are not necessarily indicative of or always supported by our facility and providers. This information is provided for informational and educational purposes only, and is not intended to be a substitute for medical advice, diagnosis, or treatment.