Home
/
Health News
/
1 In 10 ICU Patients With Heart Issues Has Illicit Drugs In Their System
1 in 10 ICU Patients With Heart Issues Has Illicit Drugs in Their System
By Dennis Thompson HealthDay Reporter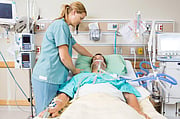 FRIDAY, Aug. 18, 2023 (HealthDay News) -- More than 1 out of every 10 patients who land in an ICU with a potentially deadly heart emergency test positive for recreational drug use, a new French study reports.
About 11% of nearly 1,500 patients admitted to a French intensive cardiac care unit for a heart crisis tested positive for cannabis, opioids, cocaine, methamphetamine or other illicit drugs, researchers said in the journal Heart.
Drugs were even more common in younger heart patients, with 1 out of 3 patients under 40 testing positive, results showed.
The study can't say whether the drug use caused these patients' heart problems, although drugs are known to have negative heart health effects.
But the drug use was tied to significantly poorer outcomes for heart patients in critical condition, researchers found.
Drug users were nine times more likely to die or require an emergency intervention while in the hospital, compared to other heart patients, according to results.
That number rose to 12 times more likely if the patient was using more than one drug, researchers say.
"Overall, the use of substances acted as a predictor of worse outcomes," said Dr. Carlos Alviar, a cardiologist with NYU Langone Health in New York City, who was not part of the study
"People who presented with a positive drug test turned out to have more complicated courses. They tend to have more cardiac arrests," he said, referring to a sudden loss of heart function.
Also, "they tend to have higher mortality," added Alviar, a member of the American College of Cardiology's Critical Care Cardiology Council.
For the study, a French research team led by Dr. Theo Pezel, from Assistance Publique–Hopitaux de Paris, tracked patients admitted to one of 39 intensive cardiac care units in April 2021. The patients provided a urine test for drug use.
The most frequently detected substance was cannabis (9%), followed by opioids (2%), cocaine (2%), amphetamines (1%) and ecstasy (0.6%), results showed.
Nearly 51% of patients had suffered a heart attack, 13.5% had heart failure, 6.5% had developed an abnormal heart rhythm, 5.5% had problems with their heart's electrical activity, and 5% had inflammation of the heart muscle.
While in the hospital, about 13% of patients with drugs in their system either died or required emergency intervention for events like cardiac arrest, compared with 3% of non-users, results show.
Most concerning, only 57% of those with drugs in their system admitted to using when talking with their doctors, noted Robert Page, a professor of clinical pharmacy with the University of Colorado and a volunteer expert with the American Heart Association.
"That, to me, is a little bit alarming," said Page, who wasn't involved in the study. "Patients need to realize that providers are really there not to judge them, but to treat them."
Some medications used to treat dangerous heart conditions can interact with illicit drugs, increasing your risk of death, Alviar said.
"There are certain medications, for example, that are contraindicated with somebody having used cocaine," Alviar said. "There are certain medications that you should avoid because in a patient without drug use they can be very beneficial and in a patient with drug use can cause harm and even in severe cases could potentially cause death."
This observational study couldn't draw a cause-and-effect relationship between drug use and heart health, but previous research has shown that some drugs affect the circulatory system in potentially dangerous ways, Alviar and Page said.
Smoking strong marijuana can cause a quick drop in blood pressure, Page said, while cocaine can cause blood pressure to surge. Meth use can cause fast or irregular heart rhythm.
"As you can imagine, a large number of these drugs actually do have very bad cardiovascular effects," Page said.
On the other hand, the study also found that people who use recreational drugs are more likely to be smokers, Alviar noted. Those and other risk factors might partially explain the association between drug use and heart problems.
"We've known for decades that when people use cocaine, they are more likely to be also smokers," Alviar said. And when you combine cigarette smoking plus cocaine use, the possibilities of developing really bad heart disease are increased, he explained. "It's a really bad combination," he said.
An editorial accompanying the new study says the research "has not provided evidence which justifies screening for recreational drug use" as part of caring for critical heart patients.
However, Page noted that some patients might get such screening.
"A lot of patients get admitted to the hospital and they may be incoherent," Page said. "And there is an understanding of implied consent to figure out exactly what the patient has used in order to address the medical situation."
More information
HealthDay has more about heart attack.
SOURCES: Carlos Alviar, MD, cardiologist, NYU Langone Health, New York City; Robert Page, PharmD, MSPH, professor, clinical pharmacy, University of Colorado; Heart, Aug. 15, 2023
« Back to News

The news stories provided in Health News and our Health-E News Newsletter are a service of the nationally syndicated HealthDay® news and information company. Stories refer to national trends and breaking health news, and are not necessarily indicative of or always supported by our facility and providers. This information is provided for informational and educational purposes only, and is not intended to be a substitute for medical advice, diagnosis, or treatment.