Paulding Area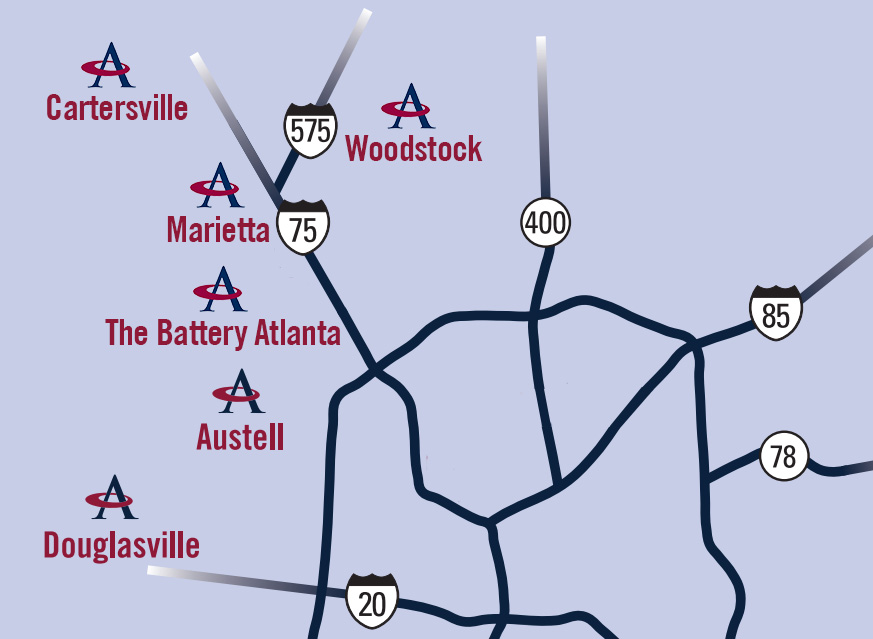 Committed to Serving the Paulding County Community
Piedmont Orthopedics | OrthoAtlanta is committed to serving the orthopaedic and sports medicine needs of the rapidly growing Paulding County community. We have six convenient locations for Paulding County residents and 12 additional locations throughout the greater Atlanta, Georgia, area. All Piedmont Orthopedics | OrthoAtlanta offices serve existing and new patients by providing orthopaedic and sports medicine care for bones, muscles, joints and spine.
Piedmont Orthopedics | OrthoAtlanta provides specialty orthopedic care treating injuries from simple sprains, strains and fractures, to the most complex disorders including total joint preservation, reconstruction or replacement. Piedmont Orthopedics | OrthoAtlanta brings to you physicians with fellowship training in Foot & Ankle injuries, Hand & Upper Extremity Injuries, and Spine/Back injuries and conditions. Our providers are trained in the most cutting edge technology including robotic assisted surgeries, joint replacements, and regenerative medicine.
Piedmont Orthopedics | OrthoAtlanta providers are dedicated to bettering the community through providing the best of care to get their patients back to the quality of life they deserve. Whether you are looking to get back on the golf course, back in the pool, back on the field, back in the garden, back to dancing, or just back to enjoying the things you love without letting an injury or pain slow you down, we are here for you!
Please click on one of the links below to schedule with a provider today.
Six Convenient Locations to Serve You:
Austell
770-944-3303
3672 Marathon Circle
Suite 200
Austell, GA 30106

Cartersville
770-445-5666
970 Joe Frank Harris Pkwy SE
Suite 100
Cartersville, GA 30120

Douglasville
770-949-8558
2976 Chapel Hill Rd.
Suite 200
Douglasville, GA 30135

Marietta
770-635-1812
620 Cherokee Street NE
Suite 300
Marietta, GA 30060

The Battery Atlanta
404-418-9090
455 Legends Place SE
Suite 890
Atlanta, GA 30339


Woodstock
770-635-1812
970 Woodstock Parkway
Suite 310
Woodstock, GA 30188